Current Priorities
---
Join us in supporting our wide community of learners and build capacity for the future.
Native American Elder Voices Project
Your generous support of Crow Canyon has allowed us to build meaningful relationships with Native American people and communities. They are the living descendants of the past inhabitants of this landscape, and without their gracious friendship and willingness to share their knowledge our work would not be possible. We are sincerely grateful for their long-standing partnership with Crow Canyon.
Native American elders have been impacted by COVID-19 at especially high rates, hurting families, communities, and cultural traditions. In response to the devastating loss of elders, we are asking for your support in launching a project to film and produce video recordings of Native American elders. The filming of elders talking about their lives, experiences, knowledge, and histories will preserve valuable information for future generations of descendants. Elders are vital to the preservation of Indigenous languages and traditions, as they connect descendants to a shared history and ensure the persistence of traditional culture and practices long into the future. These film will highlight the resilience, ingenuity, and contributions of Native Americans throughout history.
Your support of the Native American Elder Voices Project will:
Preserve stories, in English and in Native languages, for use by Native people in service of Native cultural continuity;
Expose non-Native people, including Crow Canyon participants, to the life experiences of Native elders;
Combat the ignorance and misrepresentation of Native American culture and history that has contributed to a deepening of discrimination, inequity, and injustice;
Demonstrate how living Native cultures with deep histories are grappling with challenges of the present and future;
Help to design and inform our archaeological research by ensuring the inclusion of diverse narratives of the past.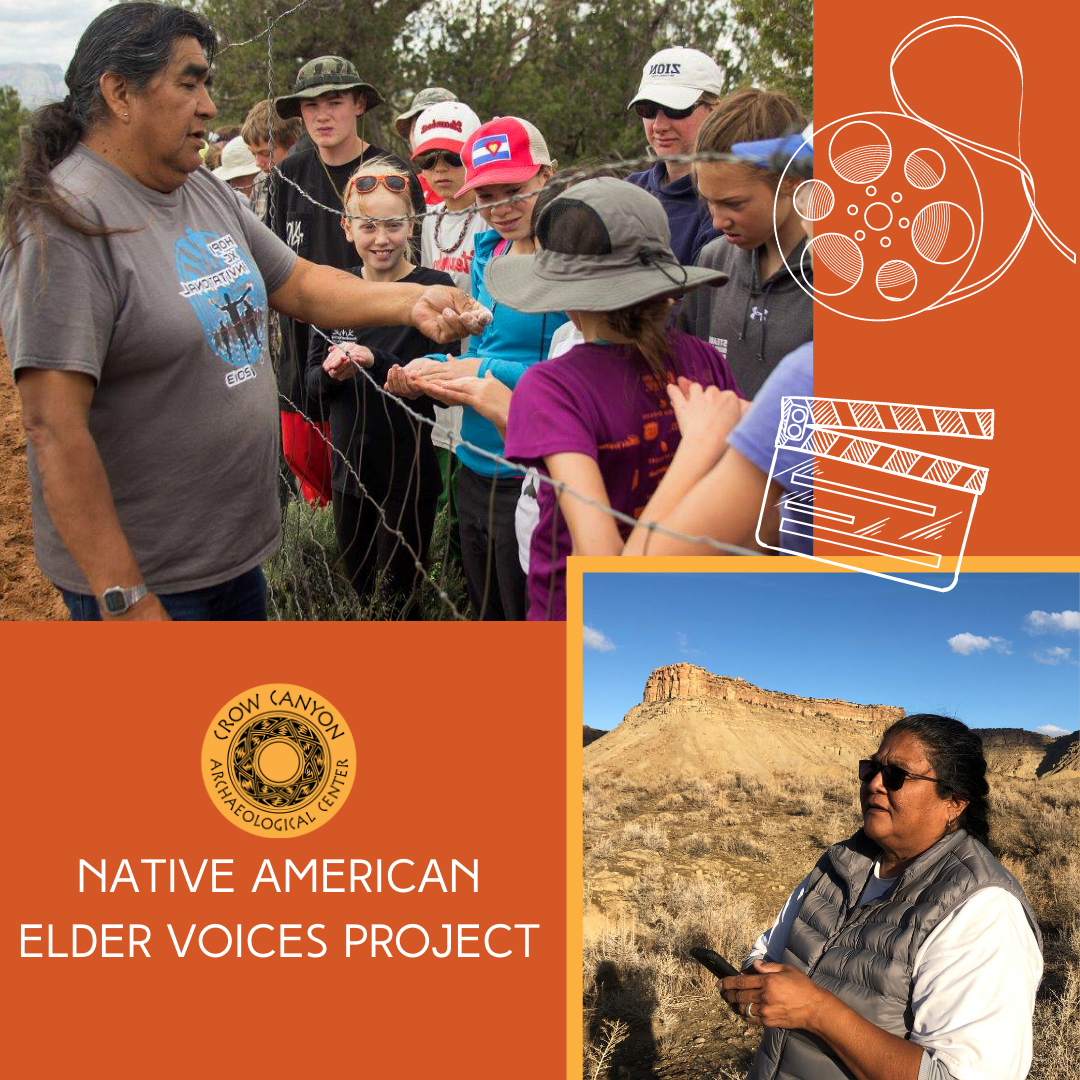 Please donate today to support this urgent project.
Your gift will be used to:
Compensate elders and tribal assistants for their time in the filming of videos;
Cover equipment and salary costs for the production of videos, including travel expenses associated with producing videos onsite at tribal and pueblo locations;
Incorporate knowledge and perspectives gained from the Elder Voices Project into Crow Canyon webinars, curricula, research, and other educational materials and activities.
Native American Elder Voices Project
Creating Cultural Continuity and Understanding
Please consider a donation to the Crow Canyon Annual Fund when you register for a webinar. A Crow Canyon trustee has made a $50,000 challenge match for 2021. Every dollar you contribute in support of the Discover Archaeology webinar series and Crow Canyon's mission will be matched up to $50,000!
Your gift to the Crow Canyon Annual Fund supports groundbreaking archaeological research, transformational education programs, and mutually beneficial partnerships with American Indians.
Find out more! View the video Ways of Being, and read about goals and accomplishments in Crow Canyon's most-recent annual report:
STAY CONNECTED
Our weekly newsletter keeps you up-to-date on our programs, projects & people!